How to be the best bridesmaid: 
A 5-minute guide
Is your best friend getting married? Are you going to be a bridesmaid soon? Are you unaware of your duties as a bridesmaid? Here's a small guide on how you can be the best bridesmaid.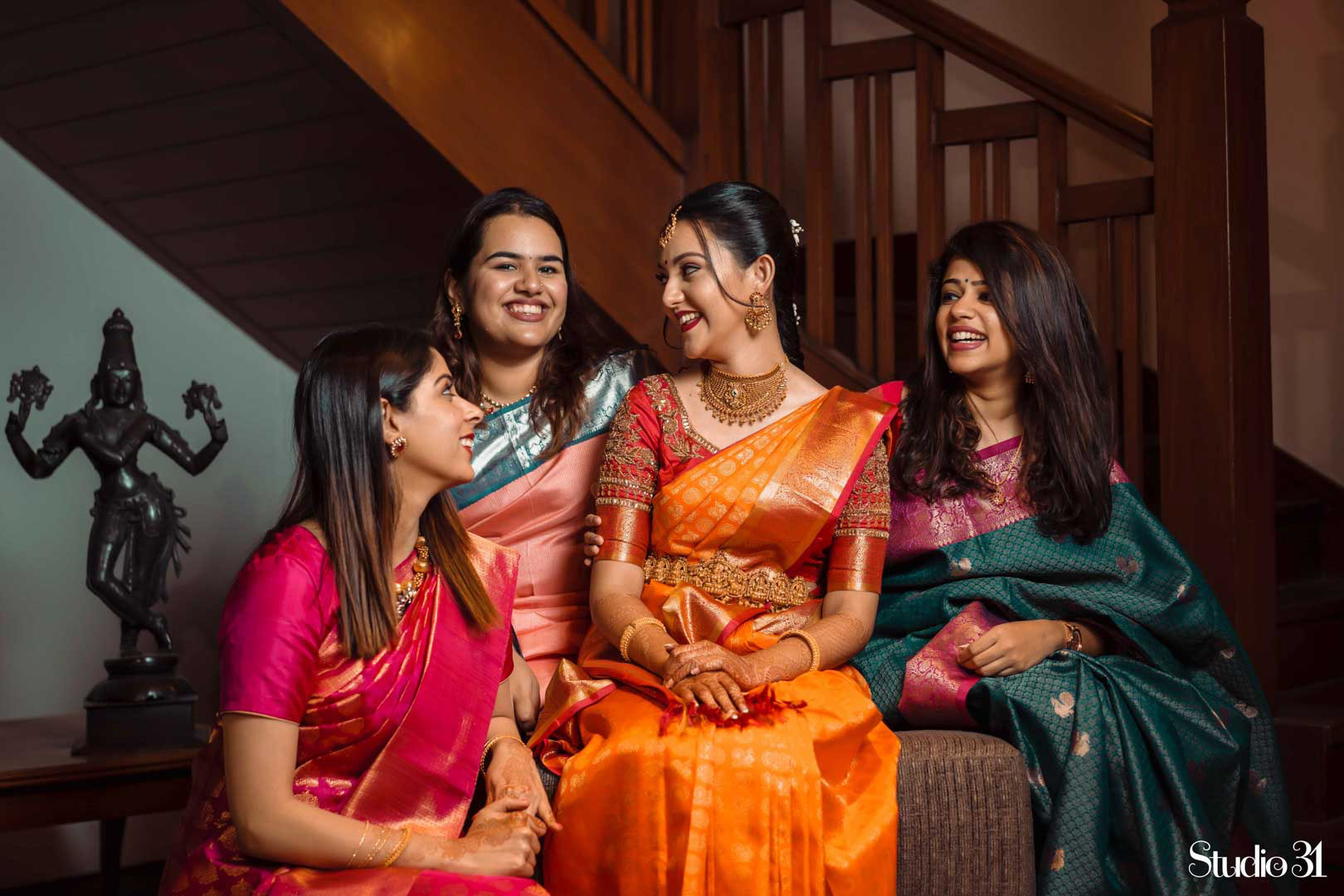 Before we get started, Studio 31 wishes to take this opportunity to appreciate all our wonderful bridesmaids, as they are truly the under appreciated and unsung heroes in every bride's life.
1. Providing moral support
"My best friend was super excited about getting married but a few weeks later she seems a little panicky. I'm confused. What should I do?"
If you as a bridesmaid can relate to this thought, then don't worry it's absolutely normal. Brides often get nervous before their wedding as it's definitely nerve-wracking to suddenly have to leave her home, the place she's known all her life. So of course she's going to be nervous.
As a bridesmaid, all you can do is be there for her, support her, take her to places she loves to ease the nerves, assure her that the decisions she's made are for the best, and hold her hands through it all.
2. Giving her suggestions and helping with her wedding shopping.
Choosing the right outfit, the right makeup artist, the right photographer, the right wedding venue, etc can be really difficult and an extremely daunting task. Yes, Indian parents help with a lot of wedding planning but it's also a big task for any bride. And to keep up with current trends can be extremely overwhelming.
So as a bridesmaid, you could help your bride by doing some wedding research. Provide ideas, giving her suggestions on what colours to wear, what hairstyle to choose, what gifts to buy for the groom, which caterer to book, and more. This will just make her job a little easier and relieve some stress that she might be accumulating thinking about these tasks.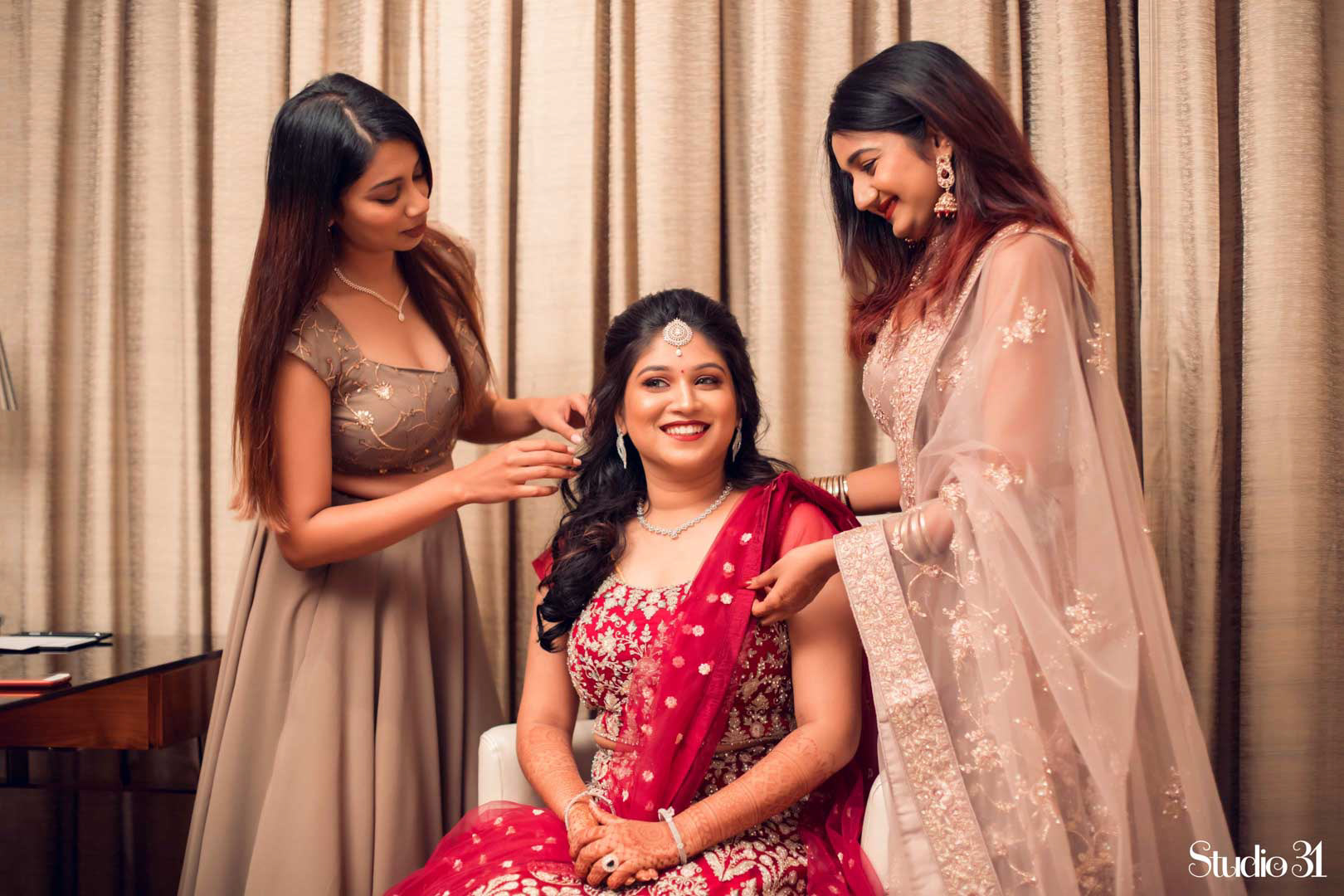 3. Helping with return gifts
Return gifts are a way for people to remember your wedding. The traditional way of doing this is the "Manja-pai or thambala-pai" that is usually given at almost all South Indian weddings. But since times have changed, people have adopted the idea of giving return gifts from western cultures as a way to say thank you to all their well-wishers on their big day.
You as a bridesmaid can help with suggestions and shopping for the same. A gift that will be useful to everyone and also cost-effective for your bride and her family.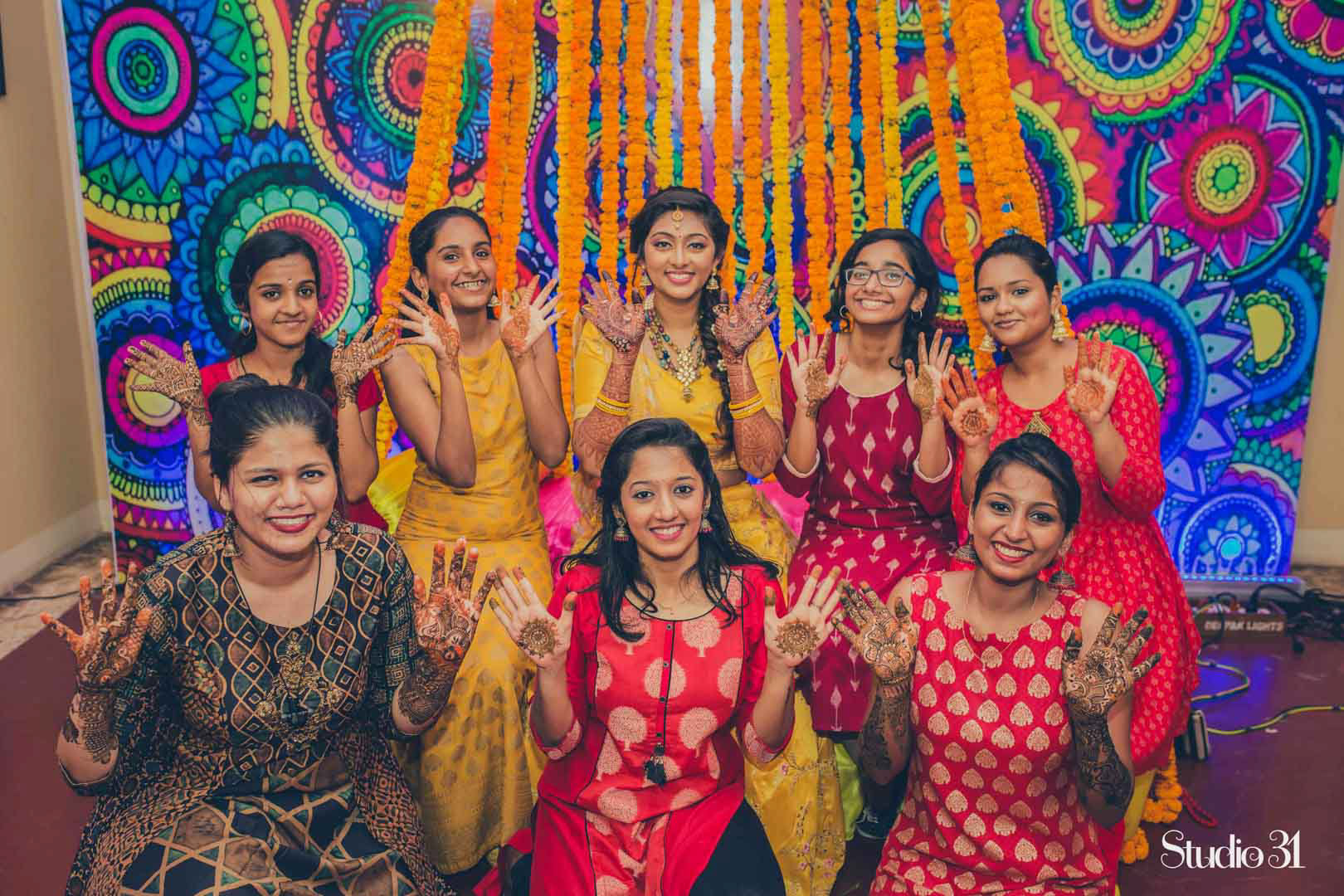 4. Helping with E-Invites
Digital invites or E-invites have become so common in the past few years and during these trying times of having to deal with the pandemic, e-invites have proven to be really effective. Friends and family these days are all in different countries or cities and it's extremely difficult to find time to visit everyone and give them a physical invite. With the travel restrictions in place, it is all the harder. So in such cases, e-invites are super simple and effective.
So as a bridesmaid, you could help with designing a cute/quirky e-invite to send to friends. You could also help with adding personalised elements to each invite.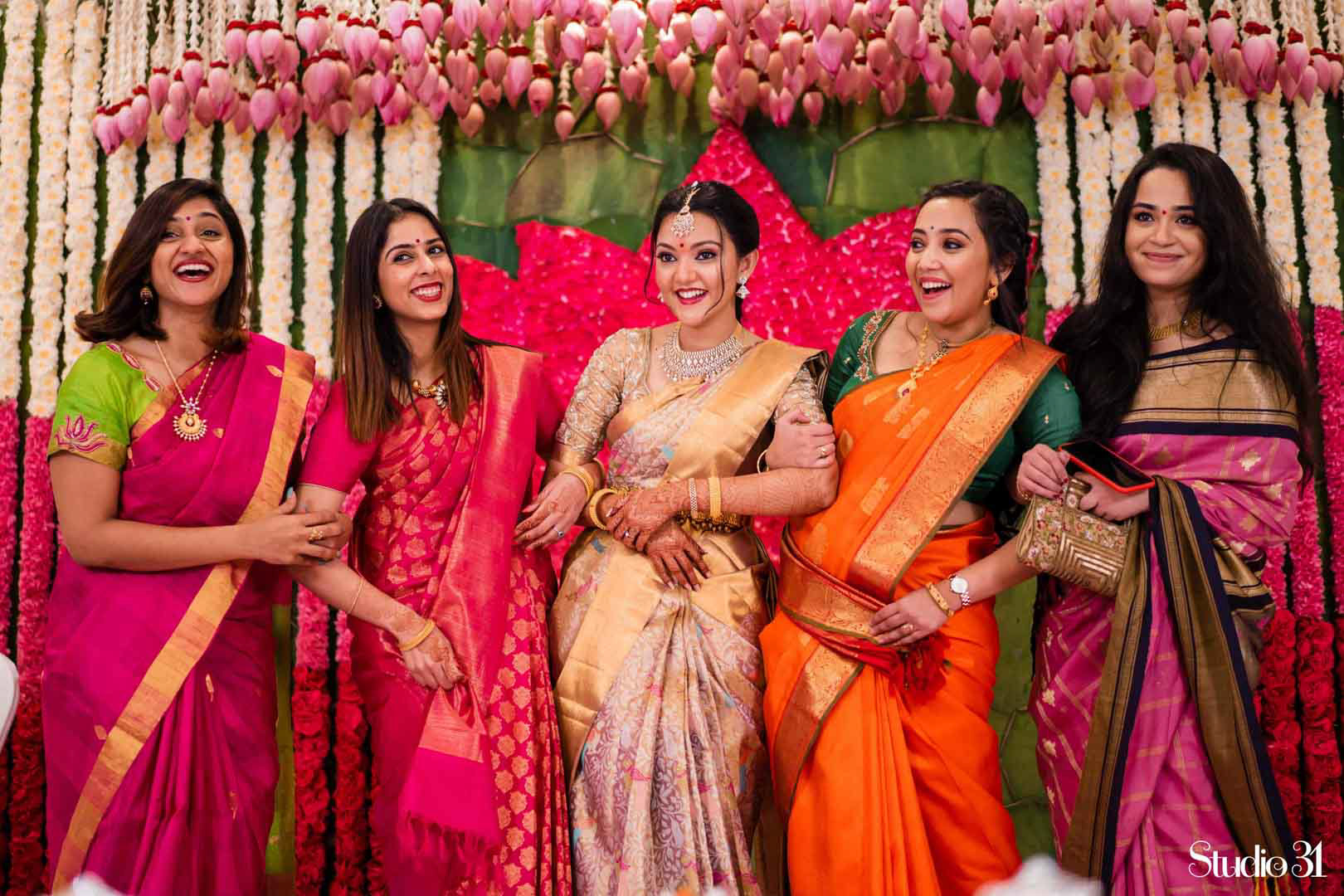 A fun event that originated from North Indian weddings, but has now become a common tradition in almost all Indian weddings. Sangeets are filled with a great atmosphere, music, dances, games, and of course delicious food. Most parents might not be too keen on planning a sangeet nor will they be updated with the latest trends and themes. As a bridesmaid, helping plan this event would be of great help to your bride. Help her with picking out the music, planning and coordinating the dances, help out with picking a fancy menu, and basically help in any way that you can.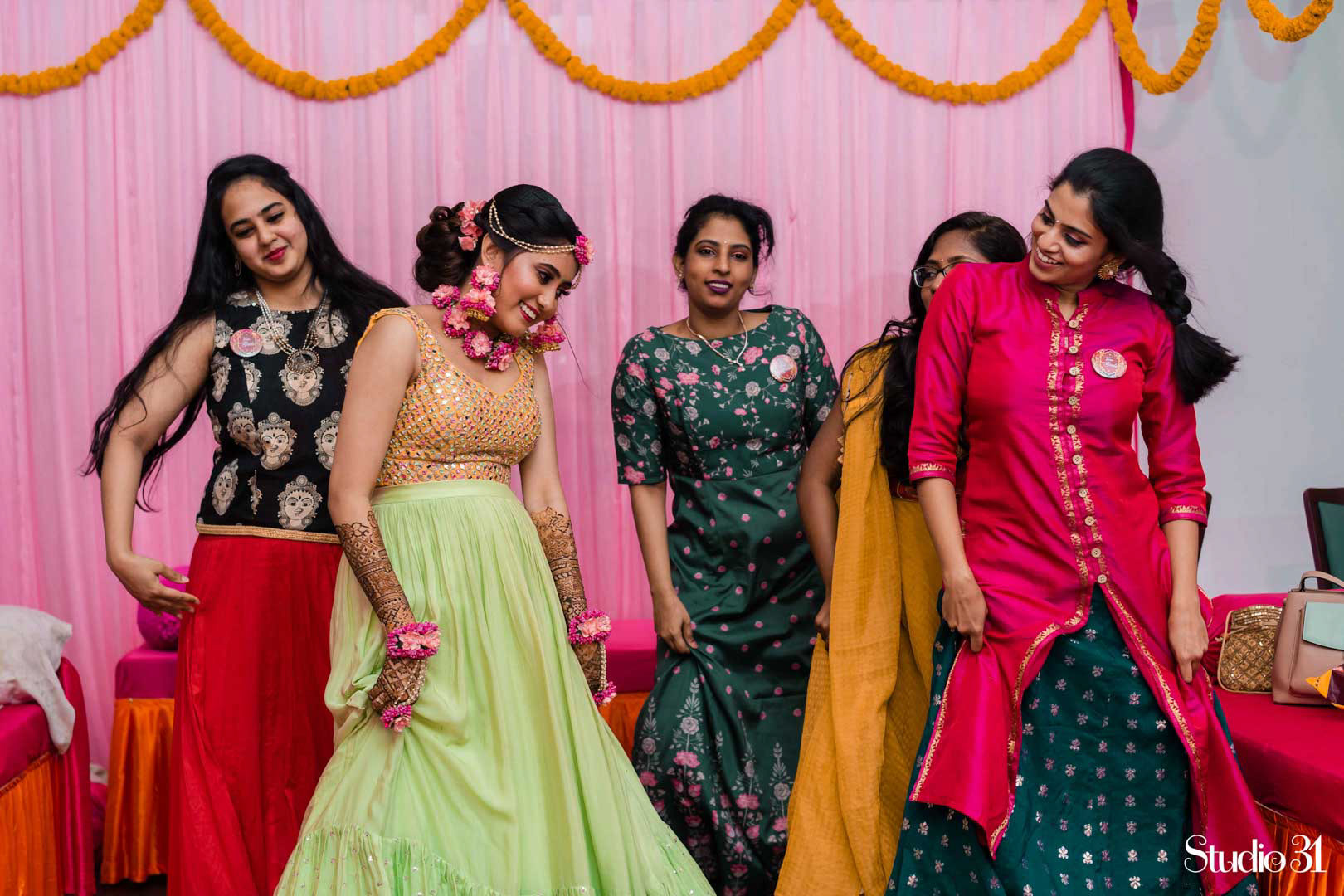 Yes, you've helped your bride with whatever you can. But in the process and all the hassle of getting work done, have you forgotten about having fun, and is your bride still stressed out?
Then we highly recommend that you throw her a surprise bachelorette party.
​​​​​​​
6. Planning the Bachelorette party
- Choose your bride's most favourite location, decorate it and adorn it with some of your best memories together.
- Choose her favourite cuisine of food and do not forget to go overboard with the desserts that she absolutely loves.
- Buy her a bunch of gifts that you know she'll love.
- Make a small video or slideshow for her to view on the day of the bachelorette.
- Include music, dance, and games — we guarantee you that she'll have the best time of her life.
- Invite all the women in her life that she loves and adores.
- And finally do not forget to click some amazing pictures to remind you of your beautiful moments together.
So there it is. Our simple guide to being the best bridesmaid you could possibly be