Why professional wedding photographers cannot afford to offer heavy discounts despite weddings being small scale during Covid-19?
The Indian wedding industry is caught in a difficult situation, with the incorporation of new laws that restrict celebrations from becoming too big. The result—a brand-new culture for weddings: Covid Weddings.
The pandemic is a time when all professionals in the industry are expected to offer discounts on their service because of the economic downturn. However, we believe this cannot apply to wedding photographers. They have a professional responsibility and an obligation towards their clients that cannot be compromised at any cost.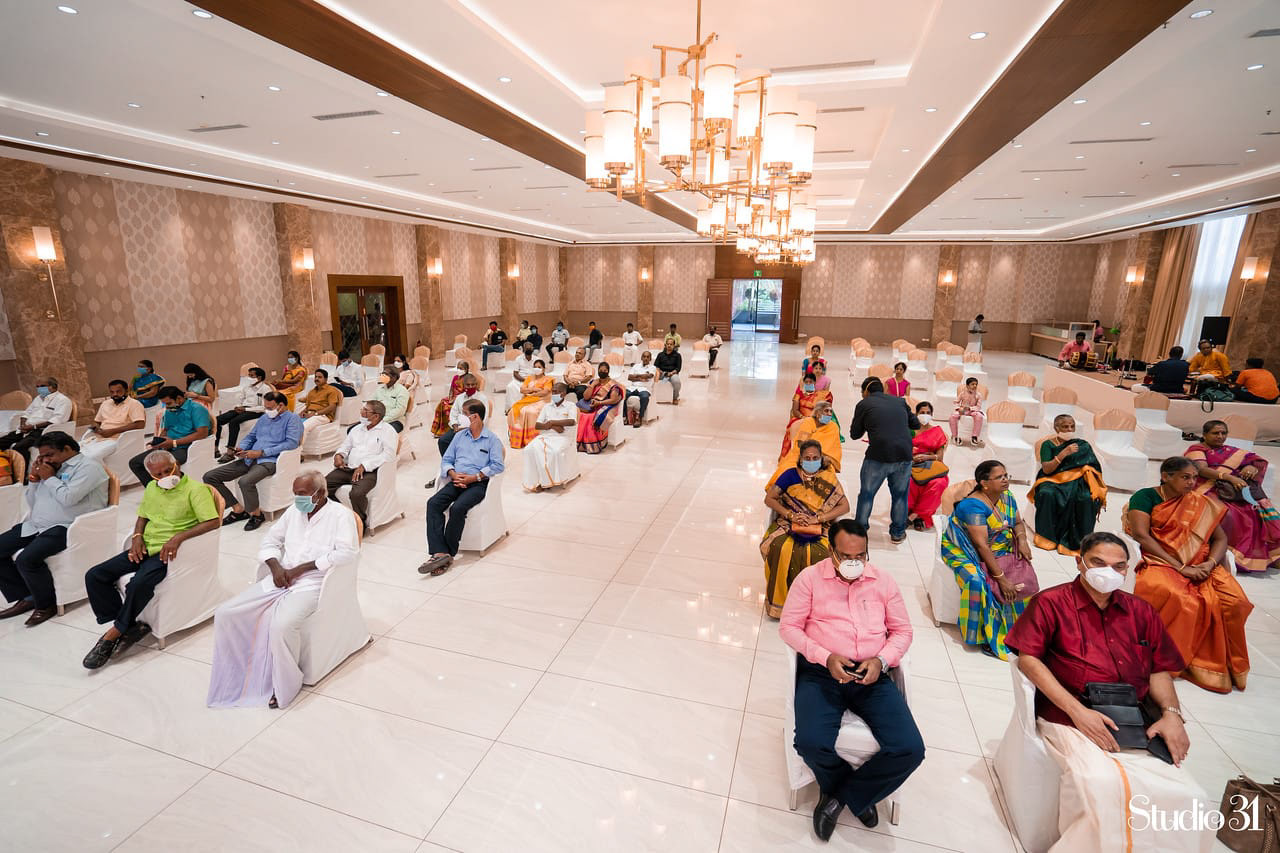 Some FAQs by couples to photographers
1. Why should we spend so much on wedding photography when only 50 people are invited for our wedding?

2. Why are you charging so much even during the pandemic?

3. Why cannot you offer the whole package at a covid-wedding discounted price? 
Your wedding photographer has an important role in capturing memories that will last a lifetime. Whether you have 50 guests or 500, the efforts put by them are still the same.
1. We cannot compromise on creativity just because there's a reduction in guest count. It doesn't work that way.
2. The efforts we put in editing your pictures and films are exactly the same nevertheless your guest count. 
3. Wedding photography prices are not calculated per head, but rather by the hours of effort that goes from capturing pictures and films until delivering them to you. We cannot be compared to any other wedding service like catering where their orders are defined by the number of the guests you specify.
5. Irrespective of your guest count, the overhead costs that is borne by your wedding photography such as staff wages, equipment rental, editing, office rental, printing, and other related expenses still remain the same. We don't incur any discount on it.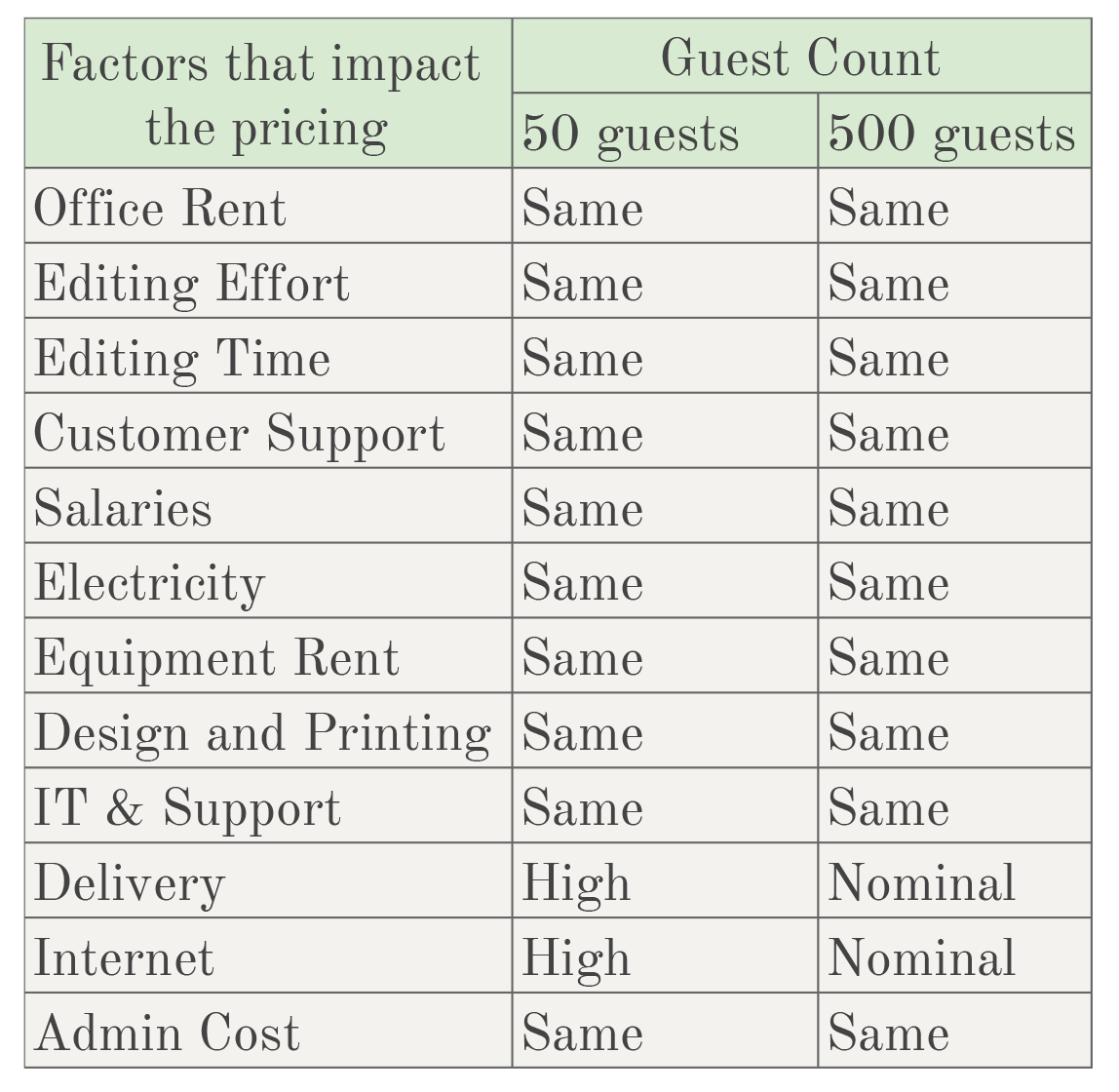 6. The final deliverables of your selected package remain the same. You would still get your 300-400 pictures for an event, a 3-4 minute wedding film and a coffee table book, and any other add-on specified.
7. We risk our lives like you too by travelling all the way to the wedding venue, meeting a lot of other people. Many photographers have also experienced emotional turmoil during this pandemic, yet our priority is ensuring your big day - small or big is as special as it should be.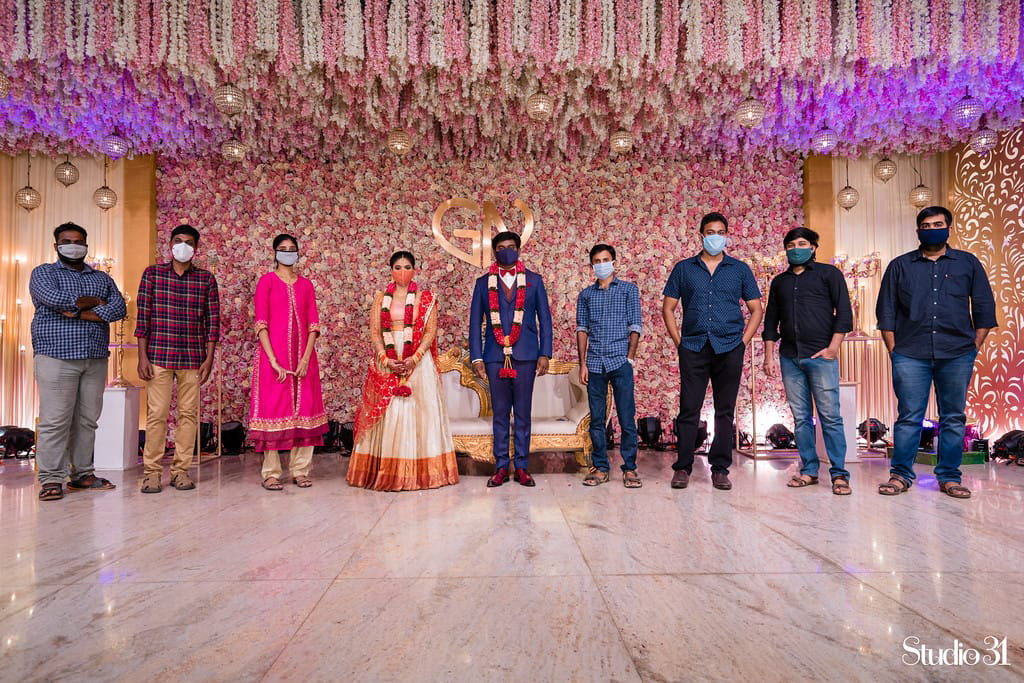 We ensure to put in our best work into every wedding production that comes through our doors -- because the only way to do this is with love. 

Ask yourself. Would you negotiate for a covid pricing when you buy jewellery or your wedding dress? We're sure you wouldn't and it isn't possible too. 
It's important to know that quality comes with a price. Expecting a discount in a service like wedding photography doesn't do justice, as your wedding is your life's biggest celebration, and it's important to invest. Wisely. 
To offer discounts would mean less profit for the business and drastically impact the livelihood of the photographer. Remember, we have families too.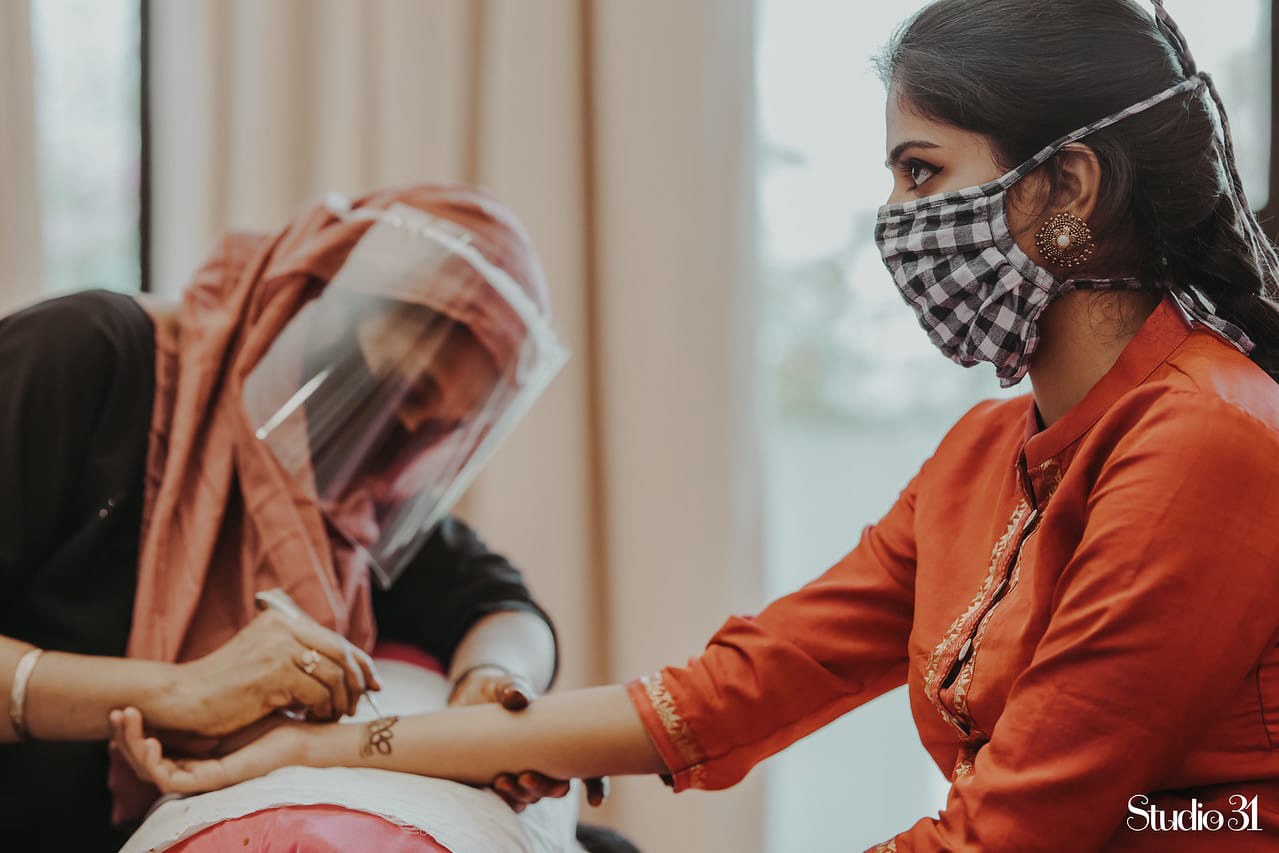 You may think, some photographers have slashed prices drastically, how's that possible?
Reputed Brands (10+ years of experience)
The honest answer is survival. Like every other services business on the planet, the business of wedding photographers have taken a huge hit post Covid-19. "Social Gatherings" today is a dangerous word. But weddings are all about Social Gatherings!   
But the reputed ones clearly cannot afford to drastically reduce prices and also provide you with all the deliverables that come in a regular wedding package. Its always quality over quantity. We can take a small hit on our margins and create a lighter package that includes the basics and ensure you get a good deal.
Did you still find a reputed brand offer great discounts without a reduction in deliverables? Check for red flags if any, like reviews and whether your entire service is outsourced to a third party. Take a wise decision. You don't want to regret for a life-time just for saving a few thousands. 
Relatively Newer Brands
While it may sound attractive in the first place, couples should dig deeper and look for the challenges associated with it. Isn't it fishy when a wedding photographer who was charging 1 lakh prior to a pandemic is suddenly charging only 40,000 for the same set of deliverables? 
1. They may

not be able to deliver

what they promised. On Time.  
2. They may be

outsourcing

all the services and just act as a mediator. 
3. They may not have the

people skills to professionally handle

and manage your event + most importantly the post-shoot service well. 
4. They may end up providing you only half the promised deliverables, after you follow up a hundred times. You'll undergo the

"photographer induced stress"
Over 2800 couples have chosen Studio 31 in the last 12 years to capture their weddings.
At-least 150 couples book us every year after having a unpleasant experience with another photographer in the past.
We urge you to think twice, before you take a decision about hiring your wedding photographer merely based on the pricing.
Help us,
help you better.
Money is always a determining factor -- for you and for us. And precisely why we wanted to take this opportunity to familiarise you with how a photographer's business works. We understand your situation and we're here to to give you the best wedding photography experience, but we're small business owners and we need to make some profits to keep our livelihood stable too.
The challenge arises when couples expect a package that includes all the regular deliverables + extra deliverables for a covid wedding like live streaming, at a fraction of the original pricing. 
But, here's what can be done. If you're having a simple wedding owing to the Covid restrictions, and have a smaller budget allocated for photography, we recommend you to choose our custom packages, that come with lesser deliverables. 
There would be no compromise on the quality of the output or the customer service, creating a win-win situation, for both the couple and the photographer.
We hope we've helped you with some information about a photographer's business that no one has ever told you before. 
Hire Studio 31 for a great wedding day photography experience.
All our services and deliverables are customised, based on what is important to each individual couple, so let's talk about how we can make your big day even more special than it already will be.
Studio 31 is a 12 year old premium wedding photography and film company based out of Chennai. The company captures over 400 weddings every year across South Indian cities including Chennai, Hyderabad, Bengaluru, Mysore, Coimbatore, Trichy, Salem, Nellore, Visakhapatnam etc. They also shoot weddings internationally in Sri Lanka, Singapore and Germany.
We're one of the only tech-enabled wedding photography companies in India that uses simple technology to provide their customers with a world class customer experience. The company gets over 78% of its yearly bookings via customer referrals.
Pranesh is the founder of Studio 31. He's also building 
Merake
, a client management software for wedding photographers globally.